These opportunities provide meaningful ways for youth to learn, explore and lead while earning stipends and building skills.
coffee works
Our 10-week onsite training program preps young people to work in Portland's competitive coffee market. It also preps them for life. At Coffee Works, youth receive consistent mentorship that helps them be successful employees and self-starters, learning how to take care of operations as well as customers. All while immersed in the art and beauty of coffee culture. Upon completing barista school, students receive a stipend for their time and talents. Youth have been pulling the shots—and running the business—at our walk-up espresso window for five years.
Follow us on Facebook
@coffeeworkspdx
coffee@pearmentor.org
art works & p:ear gallery
At p:ear gallery, youth partner with local artists and professionals to learn the technical skills needed to create custom artwork. From acrylic paints and silk screens, to mastering Adobe digital design software, we help youth achieve their artistic goals. Youth can work on independent projects, on a collaborative team or with a mentor to create a specific piece. We offer monthly showings at our on-site gallery where youth and accomplished guest artists show alongside each other as part of Portland's monthly art walk. We sell youth art in partnership with them through our Instagram page and online shop. p:ear youth keep 90% of the proceeds from the sales of their work, a positive way to generate funds.
Gallery
@artworkspdx
sam@pearmentor.org
bike works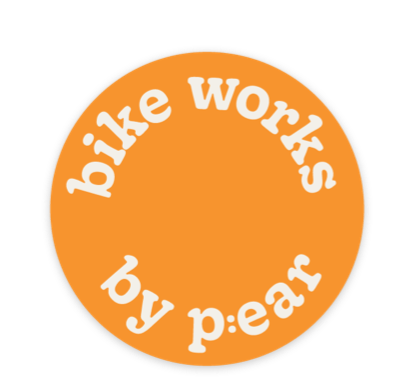 a bike shop for everyone
Our bike mechanic program readies youth for more than just the cycling world—though of course, it does indeed provide them with mechanical hard skills they need in one of cycling's top cities. Through an array of workshops, we also teach resume building, interview skills, conflict resolution, finance and customer service. Upon completing our bike school, students receive a stipend for their time and talents. Since 2018, we've run a bike shop in East County where p:ear youth can put all their hard-won knowledge into practice.
bikeworkspdx.org
@bikeworkspdx
info@bikeworkspdx.org
"This is the most amazing place that I have ever been to for guidance and art. It is so unique and beautiful and non-judgmental of its people."

~ B., p:ear youth